Animated Shorts 1
03 March 2020 - 18:00
Middlesbrough Town Hall - The Crypt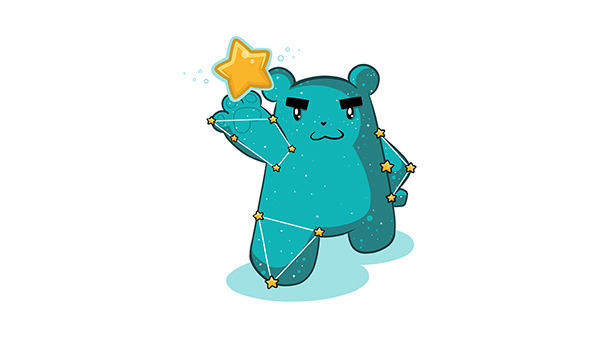 Animated Shorts 1
Animated Shorts 1
This programmes presents a selection of animated shorts in different techniques both 3D cgi and 2D animation and visual effects films. All films are in the official selection in the international competition.
The audience will also be able to vote at each screening for the Audience Award.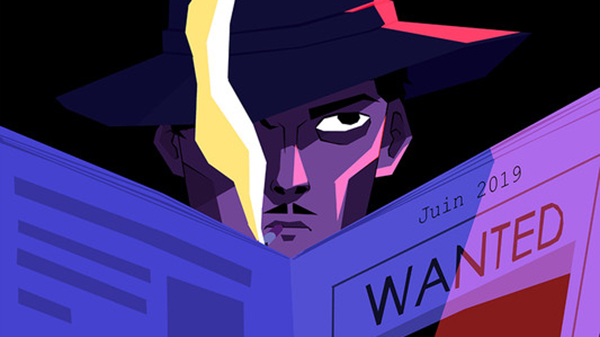 La Traque
La Traque
A detective has been investigating a criminal for years, but his task became complicated when he had to face himself.
2019 | 00:03:35 | Sandra Garcia / Xavier Bernardelli / Marine Gazel | France
ECV Paris, France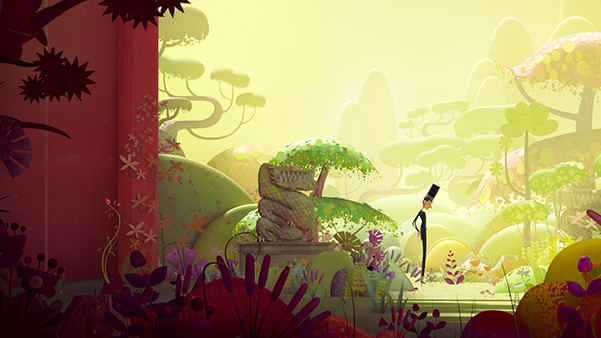 Gunpowder
Gunpowder
lt's teatime! Unfortunately for Phileas all his tea-boxes are empty - he decides to get some from the source in China!
2019 | 00:05:30 | Romane Faure, Nathanael Perron, Léa Detrain, Benoît de Geyer d'Orth, Pei-Hsuan Lin, Anne-Lise Kubiak | France
Supinfocom Rubika, Valenciennes, France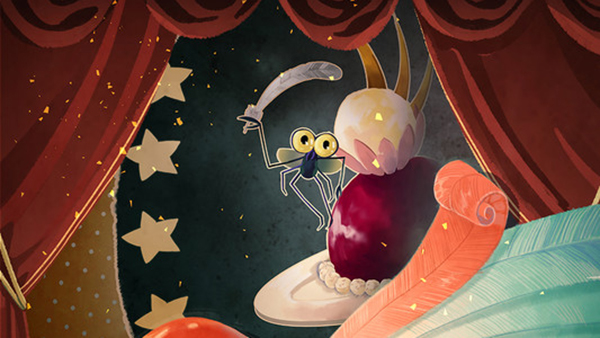 Opera Night Feather
Opera Night Feather
Homard the lobster is the the Diva's dedicated butler, a well-known and adulated opera singer. As usual before each show, he brings her favorite pastry to her but this time an incident disturbs the ritual.
2019 | 00:04:14 | Dong Lanyibo, Song Wenpei, Thibault Oriane, Von Hatten Audrey, Zheng Christine | France
ECV Paris, France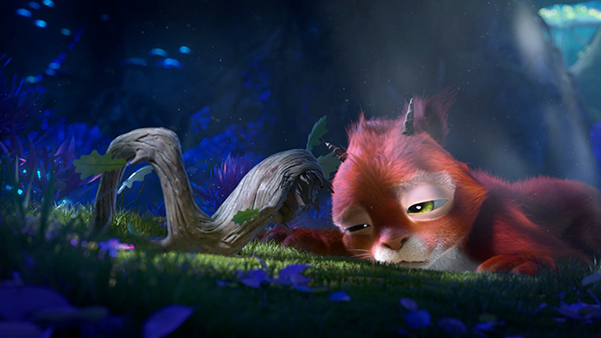 Ratatoskr
Ratatoskr
In the world tree of Yggdrasil, greedy little Ratatoskr searches eagerly for even bigger and better fruits, thereby causing impending doom for his beloved friend Eikpyrnir. Will Ratatoskr come to his senses and conquer his endless greed?
2018 | 00:03:19 | Meike Mueller | Germany
Filmakademie Baden-Württemberg, Germany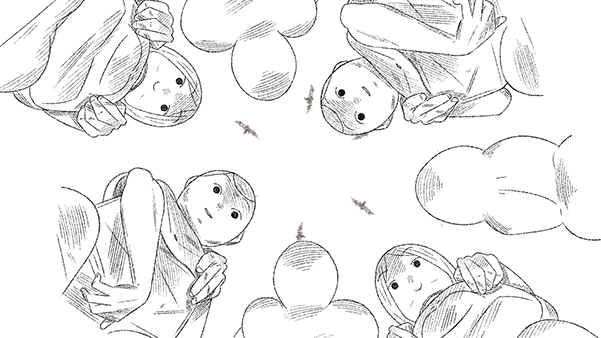 The Death Vendor
The Death Vendor
One day a boy encounters a street vendor who sells chicks.Even the boy knows these birds will die very soon. To his eyes, the man is selling none other than death itself.
2019 | 00:05:40 | Jin-kyu Jeon | Japan
Tokyo University of the Arts , Japan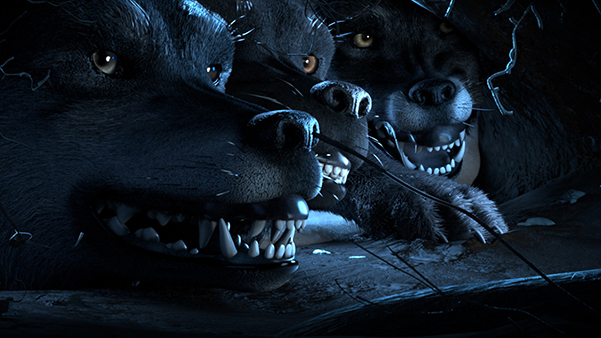 Sauvage
Sauvage
In the cold forest of Siberia, a hare tries to escape from a pack of wolves.
2019 | 00:04:42 | Raoul Dhellemmes, Axel Beaudelot, Pauline Lemaire, Marius Dalle, Alexis Jouen, Ophélie Kaszynski | France
Pôle 3D, Roubaix, France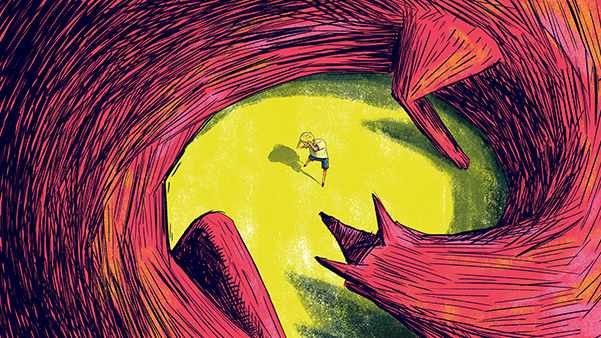 Blieschow
Blieschow
Vast plains, colorful sceneries, a red dog, that seem to reach into the sky. This is how Tom experiences summer in Blieschow, his grandfather's farm. Overwhelmed by the exuberance of nature and in constant competition with his cousin who is seemingly better at everything, envy starts to grow in little Tom. Doing everything to be recognized and loved Tom soon reaches his limits.
2019 | 00:09:38 | Christoph Sarow | Germany
Filmakademie Baden-Württemberg, Germany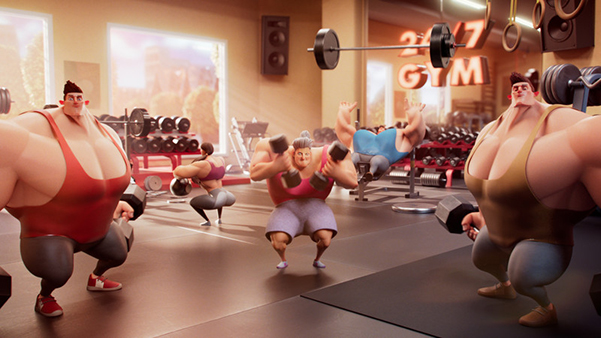 Pumpers Paradise
Pumpers Paradise
How would a world work that's all about being fit and muscle-packed? Simple everyday situations become real challenges for the Pumper: even in inappropriate or impossible situations, comically the pumpers still find a way to satisfy their training needs.
2019 | 00:02:26 | Eddy Hohf | Germany
Filmakademie Baden-Württemberg, Germany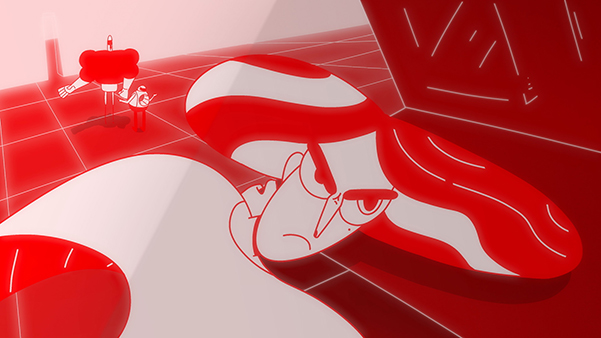 Filla' Void
Filla' Void
In a world where everybody has a hole to fill, Victor and NotKaren wait in line for the only vending machine that sells "Filler." What happens when someone unplugs the machine and NotKaren falls into the hole on another man's back?
2019 | 00:04:35 | Xinhui Ma | USA
School of Visual Arts, New York, USA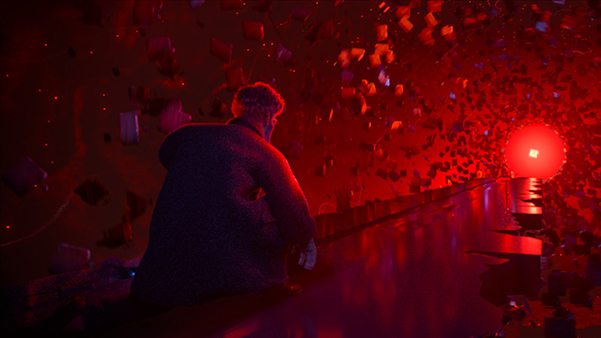 Cinetic
Cinetic
A man falls asleep on the train home. When he wakes up, every other passenger has disappeared. He continues the journey to find answers.
2019 | 00:06:27 | Thomas Lagana, Johanna Bardon-Brun, Robin Bouillet, Marie Jullietty, Hugo Meheust | France
Pôle 3D, Roubaix, France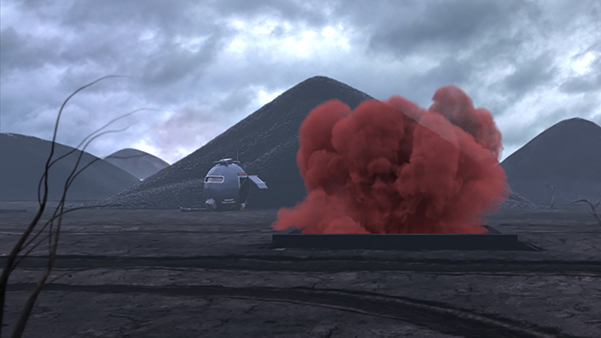 After
After
In the dystopian future, the earth is a dying planet. The human race has successfully annihilated nature. This is a glimpse of the hazardous world.
2019 | 00:02:16 | Laney (Yuan Yuan) Lai | USA
School of Visual Arts, New York, USA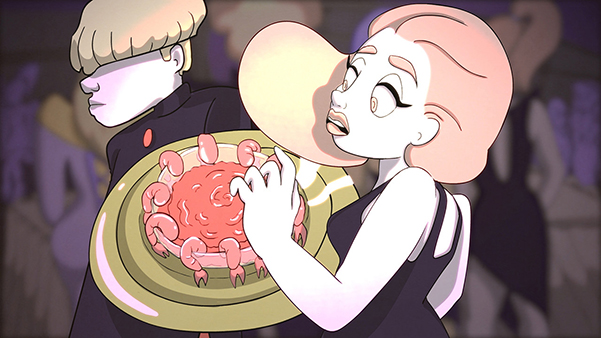 Sophie
Sophie
Sophie longs to be reborn while seeking to know her double. A party in the hills of Los Angeles offers a corporeal shift to her existence.
2019 | 00:04:42 | Anna Cangellaris | USA
California Institute of the Arts, USA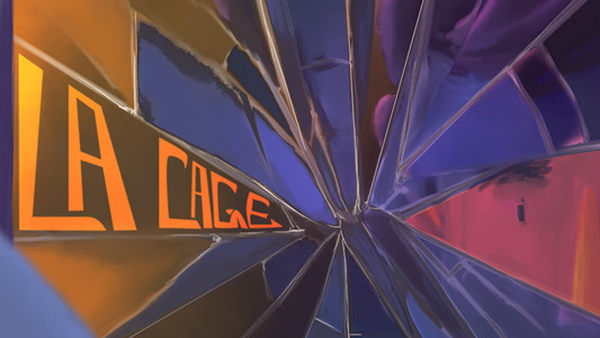 The Cage
The Cage
Michael is a man who has gender dysphoria. For him, it is as if he is a woman but trapped inside a body of man. This feeling is frustrating for 'her' as she feels like a prisoner in a cage…
2019 | 00:03:17 | Jinlan Shi | France
ECV Paris, France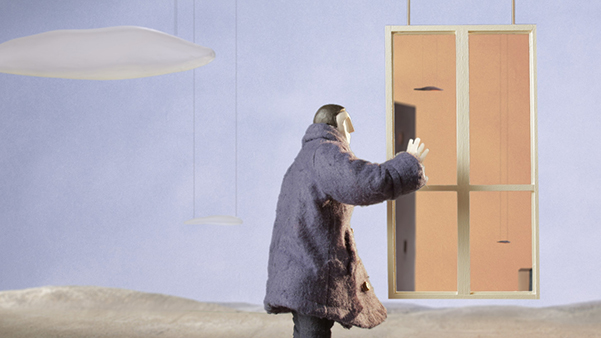 Fantasticheria n.11
Fantasticheria n.11
A lighting bulb hanging from the sky goes out… 'Mr. Undici', the little blue man thinking under his light, starts his journey to go and change it: he will walk through a surreal world and meet someone special.
2019 | 00:06:17 | Edoardo D'Amico, Lorenzo Bonaventura, Alessandro Corti | Italy
Fondazione Scuole Civiche di Milano, Italy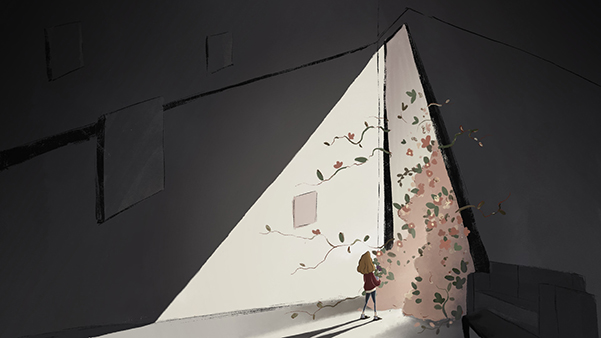 Wither
Wither
After suffering a loss, the inundating sympathy flowers echo a young woman's emotional passage.
2019 | 00:03:20 | Nicolette Axiak | Australia
University of Technology Sydney, Australia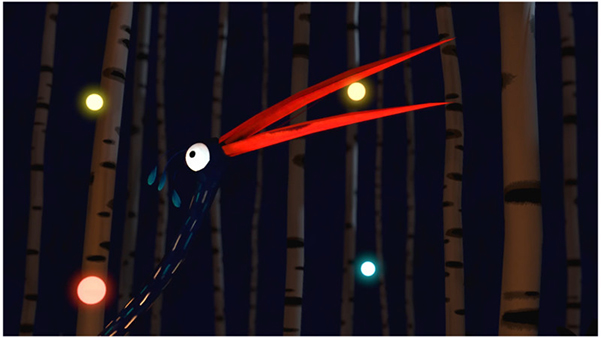 Bloated
Bloated
In the heart of a dark forest, shines a firefly. A strange bird quickly spots it and launches into a swirling and colourful hunt.
2019 | 00:01:31 | Baptiste Tassin |
MOPA, Arles, France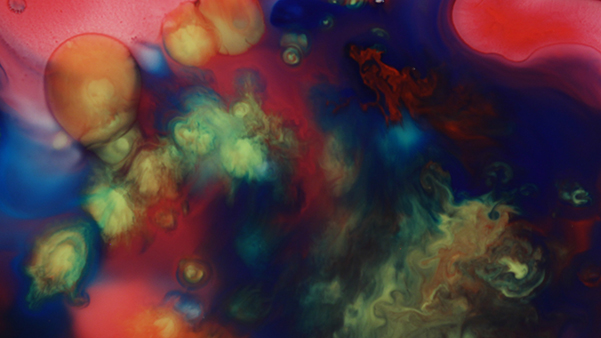 Additive Pigments
Additive Pigments
Colour pigments create new shapes, forms and colour as each is added.
2019 | 00:02:36 | Emilien Wiss | France
EMCA France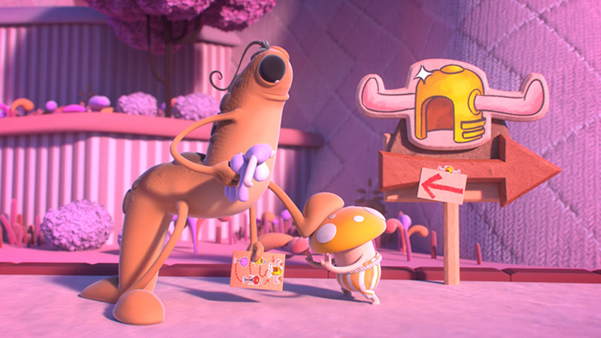 My Quest!
My Quest!
Gaston and Marin are looking for the same legendary helmet on top of a mountain. The two characters will fight during the whole adventure, until they discover that the real treasure is their friendship.
2019 | 00:04:18 | Albert Faury | France
ECV Paris, France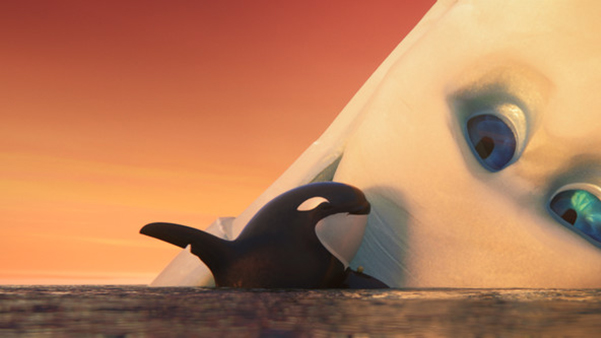 Ice Berg (Glace À L'eau )
Ice Berg (Glace À L'eau )
Separated from its glacier, a curious icebeg drifts with the currents. He then discovers with fear and surprise a world as majestic as it is tormented.
2019 | 00:06:35 | Mathieu Barbe, Damien Desvignes, Victor Hayé | France
ECV Paris, France