Animated Shorts 1
01 May 2019 - 18:00
The Lounge Bar Zero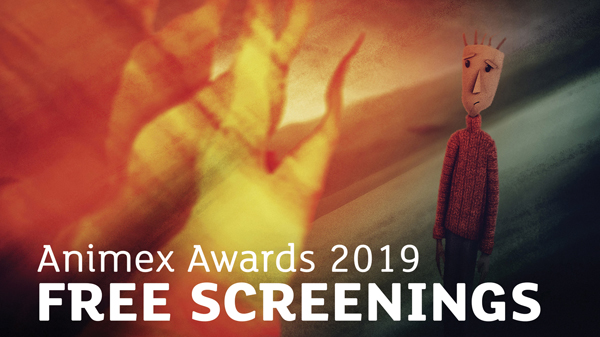 This first screening will present a selection of animations competing in the different categories, ranging from CGI 3D to 2D animation to character animation to stop-motion and visual effects. There will be films to interest everyone and provide a tatser of the types of films showing in the next programmes. During this screening there will also be an intermission with opportunity to have a drink and food. You will have opportunity to vote for your favourite animation in this session for the Audience Award.
The Balloonatic
The Balloonatic
A retro-style b/w cartoon - a clown tries to earn some money on the street by doing balloon tricks. But no matter what he tries, the audience doesn't seem to notice him.
2018 | 00:03:00 | Eoin McLoughlin | UK
UWE Bristo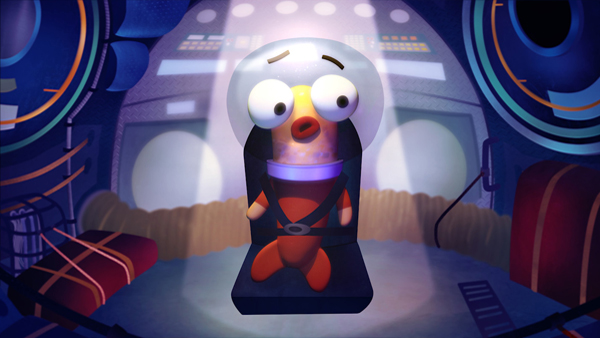 Home
Home
'Home' is a retro-cartoony and comedic animated short set in 1958. Taking place during the space race we follow a fish, Yurik, as he is sent to the moon under sedation. When he wakes up deep in space, Yurik desperately attempts to alter the rocket's coordinates back to Earth. But what does a fish know about 1958 Russian rocket technology?
2019 | 00:02:23 | Vanessa C Alessi | Canada
Sheridan College, Faculty of Animation, Arts and Design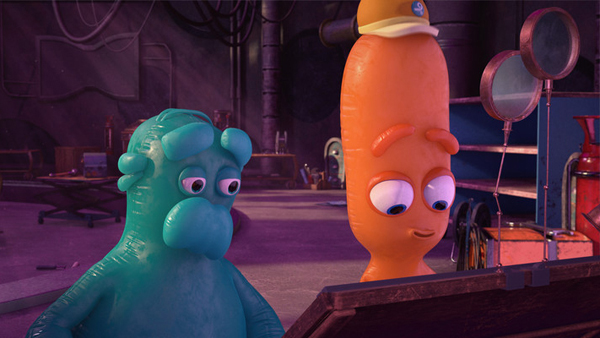 Pschiuuu
Pschiuuu
In a small village floating in the sky lives a community of inflatable men. These tiny sensitive and flimsy living creatures inflate themselves every morning after the delivery of bottles containing compressed air. But one day, the manufacturing of bottles is compromised...
2018 | 00:04:10 | Aristide Chypre, Olivier Gager, Kevin Cabon | France
ECV Paris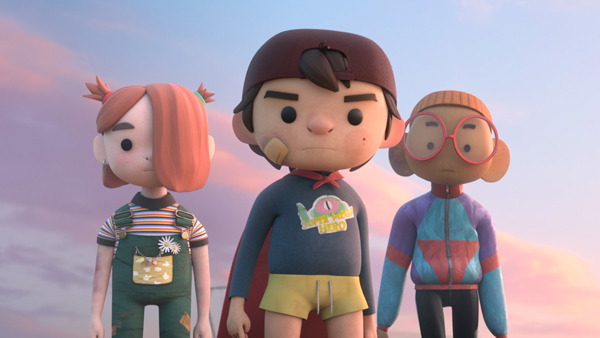 The Stained Club
The Stained Club
Finn has stains on his skin. One day, he meets a group of cool kids with different stains on their bodies. One day, he understands that these stains aren't just pretty.
View the trailer
2018 | 00:06:39 | Mélanie Lopez, Simon Boucly, Marie Ciesielski, Alice Jaunet, Chan Stéphie Peang, Béatrice Viguier | France
Supinfocom Rubika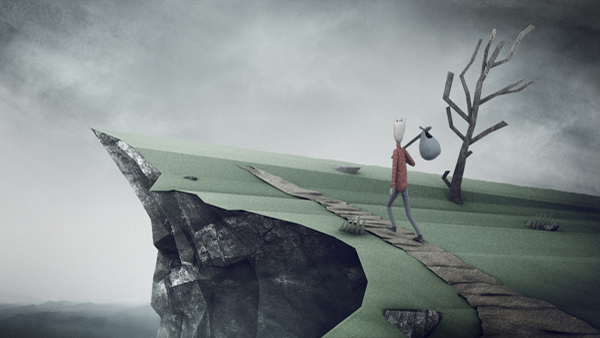 Nö!
Nö!
A hiker arrives at a shielded cliff by the rocky whites of a rough coast. While he starts building his new home, wind and weather keep beating his back and his house over and over. Driven by his stubborn optimism, he takes up the fight against the stormy situation.
2018 | 00:05:16 | Christian Kaufmann | Germany
Filmakademie Baden-Wuerttemberg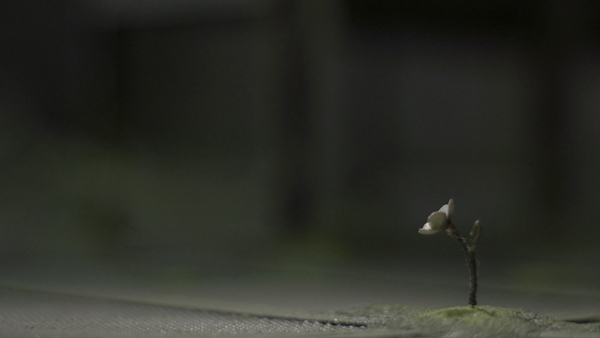 Biobot
Biobot
A stop-motion telling the story of a robot named Biot, who returns to his old workplace, now abandoned and surrounded by nature. Finding one of his robot partners in the broken factory, he will try to revive him.
2018 | 00:04:58 | Rodrigo Salcedo, Pilar Ruiz | Argentina
UADE Audiovisual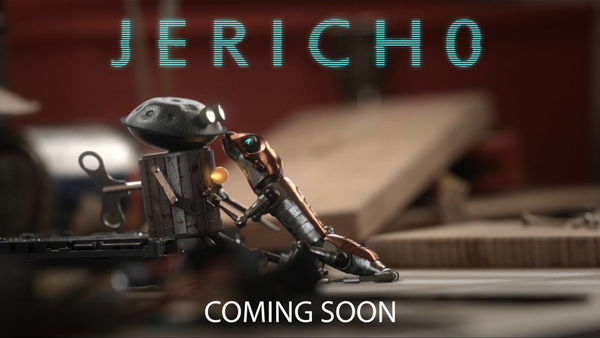 Jericho
Jericho
A lonely robot decides to try and build a mechanical friend.
2018 | 00:01:40 | Sarah Andrews | UK
Pearson College - Escape Studios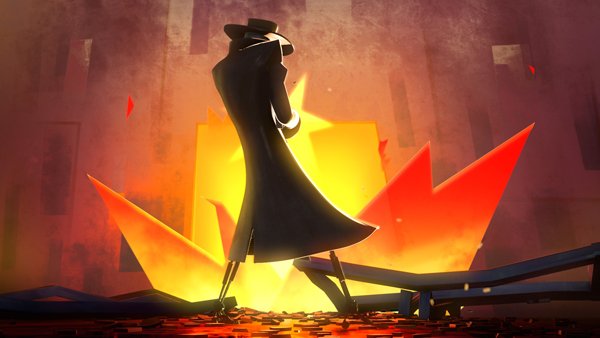 The Bolt Connection
The Bolt Connection
After a heist that goes wrong, a frail robot who was the driver of a robot mafia ends up being in possession of some loot he shouldn't have: a human heart. Tempted by the opportunity of being like his bosses, he grafts the heart to himself and discovers the feeling of being alive. But those brief instants of life have a price.
View the trailer
2018 | 00:06:51 | Nicolas Lebas, Claire Cartier, Mathilde Dourdy, Thibault Grunenberger, Maurine Lecerf, Shih-Hui Pan | France
Supinfocom Rubika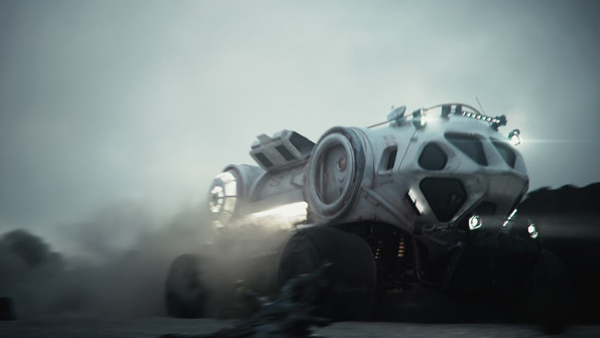 Zarae
Zarae
A squad of scientific soldiers travels all around the world to find an element necessary for the survival of humankind.
2018 | 00:04:00 | Samy Seffadj , Tanguy Girard, Camille Maupoil, Melanie Gasteble | France
NEW3DGE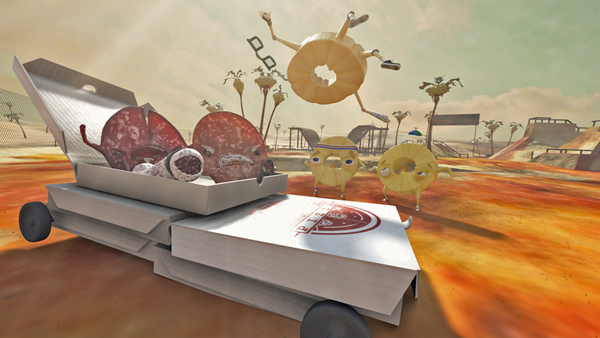 Pizza Party
Pizza Party
In a world made of pizza, unpopular toppings have to fight for equality and respect. Slapstick and skateboards are their weapons ...
2019 | 00:03:01 | Max Holicki, Áron Farkas, Stefan Kreller | Germany
Kunsthochschule Kassel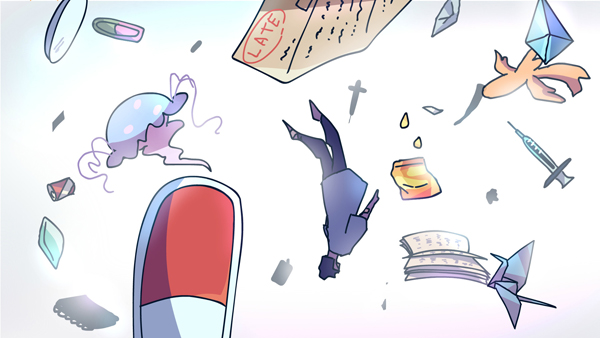 Wake
Wake
Workaholic Leyton has a hard time falling asleep but one night he gets a little more than he had hoped.
2018 | 00:01:38 | Adenike Folorunso | USA
Savannah College of Art and Design, Animation Department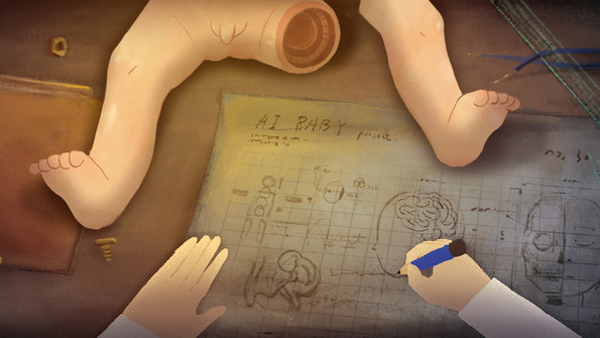 Answers?
Answers?
A mechanician lost his unborn child - feeling guilty, he works day and night to produce a cybernetic child.
2018 | 00:04:00 | Lin Sheng-dun | Taiwan
Ling Tung University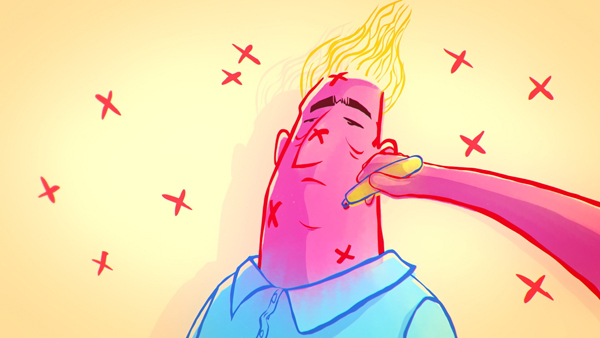 Stress
Stress
In an oppressive environment, a child plays with a knife.
View the trailer
2018 | 00:03:16 | Simon Dauchy, Tom Delforge, Antoine Wilmot, Théo Mechref, Julien Delcroix | France
Pôle 3D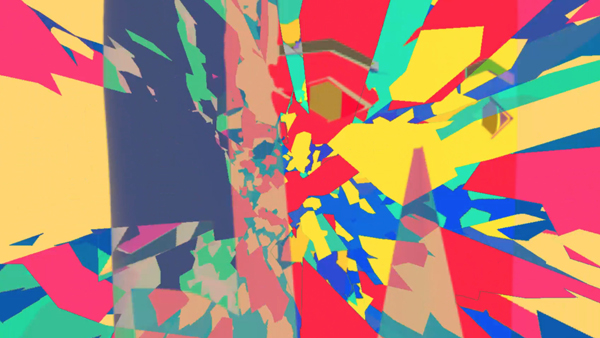 Big Boy
Big Boy
A sketch of redemption for a man who grow up and deconstructing his first depiction of the world through poetry.
2018 | 00:04:45 | Jonathan Phanhsay-Chamson | France
EMCA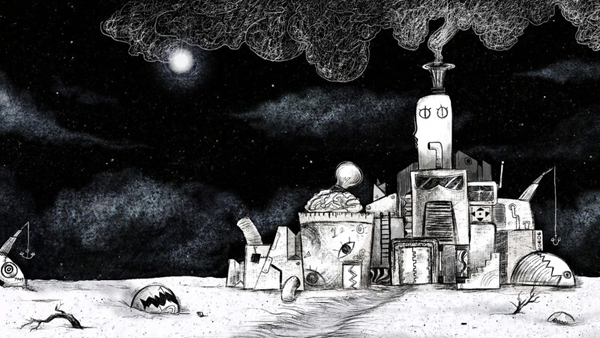 Eye Child
Eye Child
A children's house-playing scene may appear quite ordinary, but what horror lurks beneath?
2018 | 00:05:30 | Xu Bo-Cheng | Taiwan
Ling Tung University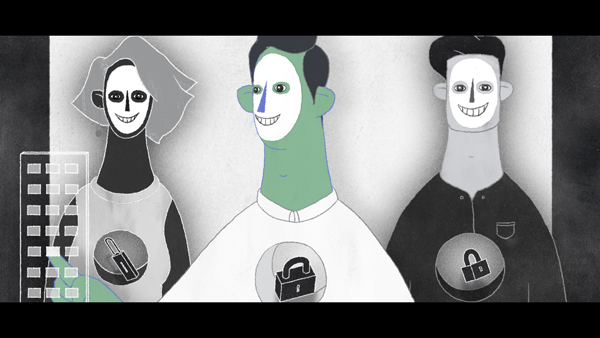 Hidden Zone
Hidden Zone
In the process of self-reflection, the boy falls into a hidden zone of his heart. In that zone, the boy sees many different layers of self.
View the trailer
2019 | 00:09:20 | Ng Chee Chong | Taiwan
National Taiwan University of Arts , Department of Multimedia and Animation Arts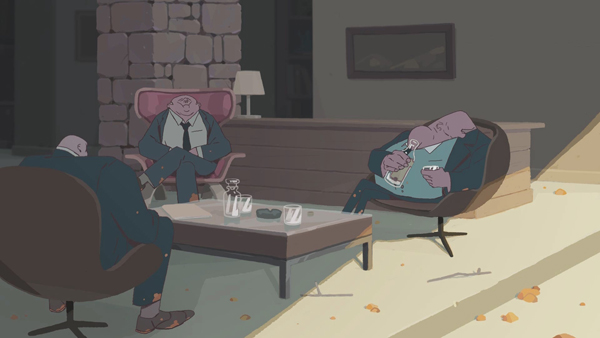 Empty Spaces
Empty Spaces
An isolated house, in the middle of the desert. Men in suits try to occupy their time. They reinvent a daily past, with nothing around them.
2017 | 00:02:00 | Grégoire de Bernouis | France
ENSAD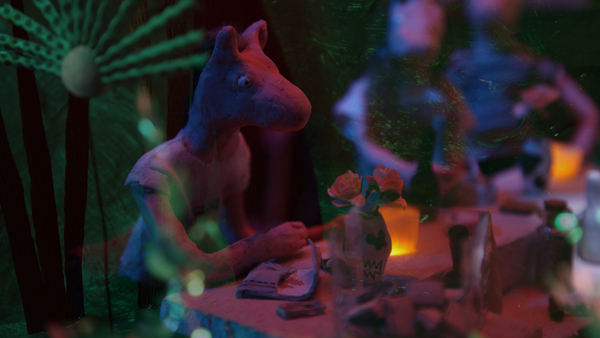 I don't want to live on the moon
I don't want to live on the moon
A stop-motion animation about daydreaming as a way of dealing with the yearning to get away and the feeling that it's always better elsewhere. The protagonist tries to get rid off his 'wanderlust' by meeting his friends in his favourite bar…
2019 | 00:03:27 | Tomke Berning | Germany
Hamburg University of Applied Sciences (HAW), Department of Design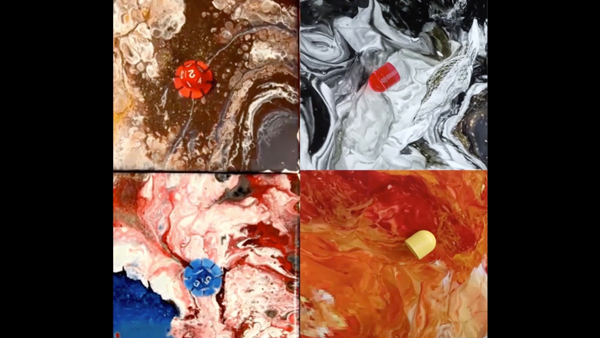 Split
Split
One, Two, Four, Sixteen, Four, Two, One. Split is a video work combining analogue with digital methods. There is a natural boundary between these two methods which is either connected or isolated. Based on this idea we created four individual but continuous screens. We tried to create a disordered system out of certain rules. The process including automatic writing, DIY fluid painting, shooting, scanning, digital processing, etc.
2018 | 00:02:42 | Da Liu, Yuanlu Li, Xiaowen Huang, Qing Qiao | Hong Kong
City University of Hong Kong / School of Creative Media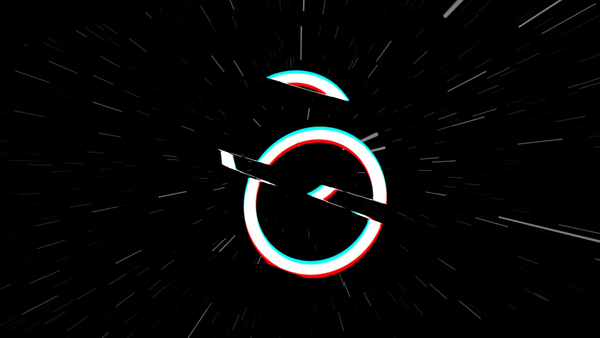 Vosill
Vosill
Looking for signals in space. Set to music with lines and ellipses, a trail of monotone shapes lead deep into the universe, unfolding the space as time continues.
2018 | 00:03:35 | Lei Wangtiansui, Wan Yu Chun, Chan Ka Wan | Hong Kong
City University of Hong Kong / School of Creative Media