Animex
news
Children bring cartoon characters to life on campus
Children discovered how animated movies and characters from their favourite cartoons and computer games are created at a special Teesside University event.
More information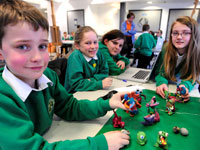 St Alphonsus pupils Ellis Crosby, Carla Gardener, Alicia Yates-Richardson and Bethany Brown
---
Pupils from St Alphonsus Primary School in Middlesbrough took part in an Animexperience session, held ahead of the University's annual international Animex festival of animation and computer games.

As well as learning about how some of their favourite animated characters are brought to life using stop motion animation techniques, the children had a go at making their own short films.

Their completed films will be premiered during at a special screening to take place at Teesside University during Animex, held this year from February 10 to 14.

Ellis Crosby, 10, said: 'We've been learning how Wallace and Gromit were made from clay and how characters from the Monsters University film were created.

'We've been making our own monsters and taking lots of photographs to make an animated film. It takes a long time. We have to take a photograph every time we move the monster.'

Harvey Thompson, 10, said: 'The characters in the Monsters University film have so much detail and we've had a go at making our own clay monster characters to make our own film. I was really surprised by how many photographs you need to take just to make a few seconds of animation.'

Gabrielle Kent, Animex director, said: 'The event has provided an introduction to stop motion animation and the children have been really inventive with the films they've put together. We're inviting them back during Animex to hold a special red carpet event to premiere their work and celebrate their achievements.'

St Alphonsus Primary School teacher Hannah Makin said: 'The children were thrilled to get the opportunity to learn how to make their own animated films, they've thoroughly enjoyed it. They're really excited about returning to the University during Animex to see their films premiered.'

Animexperience runs throughout the festival with workshops, screenings, lectures and talks from artists who have worked on major feature films and computer games, helping younger Animex visitors discover how cartoon fish can talk, what makes digital water look real or how crowd scenes are created.

03 February 2014