Animex
news
Line-up announced for Animex Festival 2014
Animex, the international festival of animation and computer games, is returning to Teesside University with another star line-up which features some of the industry's leading names.
More information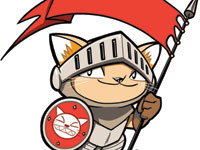 The five day event, which takes places between February 10 and 14, attracts hundreds of people from across the globe and is the largest of its kind in the UK.

Festival organiser Gabrielle Kent, said: 'We are very proud to announce the line-up for Animex 2014, with the festival once again attracting some of the biggest names in the industry to the University and the Tees Valley.

'Animex is a fantastic opportunity for us to celebrate our love of gaming and animation with colleagues and friends from across the globe.

'Each year we try and better ourselves and this year is no different. We have an amazing line up of talented speakers and we will also be welcoming Animex Comics for its second year.'

Animex, features a unique mix of talks, master classes, workshops, film screenings, exhibitions and promotes an ethos of collaboration and sharing, bringing the world of computer games and animation to the audience at any level of expertise.

This year's guest speakers have a wealth of experience between them, having worked for the likes BAFTA, Marvel, Ubisoft and Dreamworks. Speakers this year include:

Georg Baker - Hotsauce Interactive
Georg is a passionate video game developer, designer and producer with over 13 years of industry experience. He has worked for Lionhead Studios on BAFTA Award-winning games such as Black & White, The Movies and Fable 1, 2 and 3, in a variety of roles such as programming, design and production.

In 2009 he was named one of '30 under 30 rising stars in video game development' by games industry magazine Develop. Georg has a passion for interactive narrative and immersive design and has given talks and lectures in the UK and abroad about story and character in video games.

He left Lionhead in 2001 to pursue other projects, including working for Hotsauce Interactive, a London based independent games company founded by television presenter Jonathan Ross. Hotsauce released their first title, Catcha Catcha Aliens for iOS and Android at the end of 2012.

Cara Ellison – Games Journalist
Cara is a game critic and journalist who writes for a number of publications about games, including The Guardian, New Statesman, PC Gamer and Rock Paper shotgun.

She recently finished work on Charlie Brooker's 'How Videogames Changed The World' on Channel 4.

Ashraf Ismail – Ubisoft, Montreal
Ashraf started his career as a programmer at Electronic Arts working in the FIFA franchise. After a few years he followed his passion and switched to the design aspect of development working on Champion's League and EA skate.

Since joining Ubisoft he has worked on Prince of Persia and then joined Assassin's Creed to develop Black Flag as the Game Director.

Shaun Spalding – Indie Developer
Shaun graduated from Teesside University in 2011 and was the winner of a Ubisoft sponsored award in game design at Expotees. He won the award for a game he built entirely using Game Maker by YoYo games. This led to an internship with Ubisoft Reflections in Newcastle, before he became an indie developer in late 2013 and released an award winning game 'Another Perspective'.

Shaun releases a regular Youtube tutorial series on Game Maker: Studio where he encourages budding designers and developers to start making games, hoping that others can find success the way he has.

Jemma Harris – 22cans
A Teesside University graduate, Jemma's historical background in games is traditionally console based. After producing titles at Midway Games (now Warner Brothers) and Microsoft (Fable franchise), Jemma is now Head of Production for the independent games company 22cans with industry veteran Peter Molyneux.

Max Howard – Max Howard Consulting Group
Max created and ran studios for Disney in London, Paris, Orlando and Los Angeles, working on some of Disney's most memorable films including Who Framed Roger Rabbit, The Little Mermaid, Beauty and the Beast, Aladdin and the Lion King.

As President of Warner Bros Feature Animation he oversaw such hit movies as the Iron Giant and Space Jam.

At Dreamworks, he was co-executive producer for Spirit, Stallion of the Cimarron. Max is now a sought after consultant and lecturer for the animation industry, working with companies and organisations from all around the world.

To find out more about Animex, view the festival programme and book tickets, visit http://animex.tees.ac.uk/

17 January 2014
In the News
ANIMEX OPEN
BBC North Eat and Cumbria, 10/02/2014, BBC Tees, 10/02/2014, ITV Tyne Tees, 10/02/2014
The annual computing gaming and animation festival opened today at Teesside University.
---
Games festival returns
Evening Gazette, 06/02/14, P.10
Animex, the international festival of animation and computer games is returning to Teesside University next week with another star line-up which features some of the industry's leading names.
---
It's game-on in Teesside
TMCnet.com, 30/01/2014
Here's an invitation to come out to play at Teesside University where, instead of academic books and lectures, your learning experienced will be unlike anything you've known before.
---
Line-up Announced for Animex Festival 2014
Animation Magazine (Web), 20/01/2014, Love Middlesbrough (Web), 20/01/2014
Animation exec Max Howard and top game designer Georg Baker are among the speakers now set for the 2014 edition of the Animex international festival of animation and computer games at Teesside Univers
---
Animex Festival Announces 2014 Lineup
Animation World Network (Web), 17/01/2014; Gazette Live (Web), 17/01/2014; Northern Echo (Web), 19/01/2014; Darlington & Stockton Times (Web), 19/01/2014
Animex, the international festival of animation and computer games, is returning to Teesside University with another star line-up which features some of the industry's leading names.
---
Are You Game?
Living North (North East), 01/02/2014, p.21
The great news for older gamers is that their habit may bring health benefits. Gabrielle Kent, Animex festival's director, started her career working on games at Newcastle studio Pitbull Syndicate, an
---
Welcome - Animex festival
Living North (North East), 01/02/2014, p.10
In complete contrast, Middlesbrough welcomes Animex and the region plays a huge part in the industry.