Animex
news
Eresha dreams of glittering prizes
Vivid dreams provided the inspiration for a short animated film by Teesside University computing graduate Eresha Sale.
More information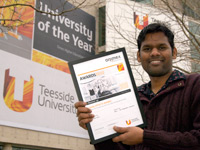 Eresha dreams of glittering prizes
---
The dreams proved fruitful, as Eresha's film has been recognised in two international animation competitions.

His film, entitled Mara, achieved Best VFX at the Cortoons International Film Festival of Rome, and also gained first runner-up prize in the Visual Effects Award category of the Animex Awards.

Cortoons is an international festival which is exclusively dedicated to the animated short movie and in its seventh year.

Animex awards
The Animex awards attract entries from across the globe and are part of Teesside University's international festival of animation and computer games, Animex.

The Awards' selection panel is made up of leading figures from the world of animation, including David Sproxton, Co-founder of Aardman Animation Studios, the team who produced the Oscar-winning Wallace and Gromit series.

Eresha, 28, is originally from Hydrobad, India and has achieved a master's degree in computer animation from Teesside. He said: 'I've always been interested in surrealism which mainly contains dreams and the subconscious mind. I also like the films of Ingmar Bergman and Federico Fellini and surrealist artists like Dali. I combined my film and art interests with recollections of my own dreams for my short film.

'The film mixed live action with animation and took about three-and-a-half months to complete. I am so happy with my prize from Rome, my short film again proved that it has capability in terms of quality and visual dream sequence. This inspired me to make future surreal projects.

'I was also very happy to enter it for the Animex awards; it was a good opportunity for me. It felt very nice to be recognised alongside international talent and hope it will help in my ambition of becoming a visual effects artist.'

19 April 2010
In the News
Award is a dream come true
Gazette Live (Web), 27/04/2010
Eresha Sales, a Teesside University graduate, has won the Best VFX prize at the Cortoons International Film Festival in Rome for her short animated film Mara.