Animex
news
Animex returns with a decade of game success to celebrate
Animex, the international festival of animation and computer games, is returning to Teesside with yet another star line-up featuring some of the industry's leading names.
More information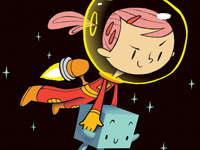 The five-day event, the largest of its kind in the UK, features a unique blend of talks, master classes, workshops, film screenings and exhibitions and attracts hundreds of people from across the globe.

There will be even more to celebrate in 2013, the fourteenth year of Animex, as Animex Game celebrates a decade at the festival while Animex Comics is also launched this year.

Another new strand to be introduced this year is AnimEXPO, presented by Teesside University's initiative for digital excellence and entrepreneurship, DigitalCity Innovation, which will provide a business focus to Animex.

The guest speakers have a wealth of experience between them, having worked for the likes of Disney, Marvel Comics, Ubisoft Reflections, DC Comics and Valve.

Speakers, including Rob Dressel, Marv Wolfman, Rhianna Pratchett, Bay Raitt and Janus Kirkegaard will give talks during the festival, which will run from 18 – 22 February, 2013 at Teesside University, Middlesbrough.

Rob Dressel
Layout Supervisor, Walt Disney Animation Studios

Rob got his start in computer graphics in 1993, before working in visual effects at Dream Quest Images, which was later bought by Disney and became The Secret Lab. He has worked on films such as Crimson Tide, Deep Rising, Armageddon and Mighty Joe Young.

In 2008 Rob become the Layout Supervisor for Prep and Landing at Walt Disney Animation Studios and has just recently finished supervising layout for Disney's latest animated feature, Wreck-It Ralph.

Marv Wolfman
Writer

Marv has created more characters that have gone on to television, animation, movies and toys than any other comics creator since Stan Lee. Marv is the writer-creator of Blade, the Vampire Hunter, Bullseye, the prime villain in the 2003 movie, Daredevil and some of his other characters will soon be seen in the upcoming Man of Steel movie.

Marv was Editor-in-Chief at Marvel Comics, Senior Editor at DC Comics and Founding Editor of Disney Adventures magazine.

Rhianna Pratchett
Writer

Rhianna is a 14-year veteran of the videogames industry, having gone from being a journalist for PC Zone magazine and The Guardian newspaper, to moving into games development and becoming one of the most respected writers and narrative designers in her field.

She has worked for companies such as Sony, Electronic Arts, SEGA, Codemasters and Square Enix, and was nominated three times for the Writers' Guild of Great Britain's Best Videogame Script award, which she won in 2008 for Overlord.

Bay Raitt
Artist and Designer, Valve

Before joining Valve, Bay was the creature facial lead on Lord of the Rings trilogy at Weta Digital and was responsible for building Gollum's facial animation system.

He has also worked as a concept artist at the Weta Workshop, designed 3D animation and modelling systems at Nichimen Graphics, built real time characters at Protozoa and coloured comics for Image Comics at Olyoptics.

Janus Kirkegaard
Senior Environment Artist, IO Interactive

Janus left his native country Denmark in 2004 to study BA (Hons) Creative Digital Media at Teesside University.

After graduating in 2008 he went to work at IO Interactive on Hitman Absolution as environment artist. Janus is now working as Senior Environment Artist on an unannounced title at IO Interactive.

Gabrielle Kent, Animex Director, said: 'We are very proud to announce the line-up for Animex 2013, once again attracting some of the biggest names in the industry to the University.

'The arrival of Animex Comics will bring even more appeal to the festival and we are thrilled to be able to celebrate ten years of Animex Game - it's set to be the biggest Animex yet.'

Find out more and book tickets for Animex at animex.tees.ac.uk/tickets.cfm.
17 January 2013
In the News
A new start through art
North East Life, 01/03/2013, p.12
February saw the return of Animex, the international festival of animation and computer games, at Teesside University. Meanwhile the university's DigitalCity Innovation project, developing digital med
---
Hitman developer ready to unleash its next-gen project
Edge Magazine (Web), 28/02/2013
Danish developer of the Hitman series IO Interactive can't wait to leave the current generation behind so it can flex its artistic muscle on PS4 and the next Xbox, says senior environment artist Janus
---
Journey's composer on storytelling through music
Edge Magazine (Web), 26/02/2013
After scoring Journey, Austin Wintory raised eyebrows by announcing his next project: the Leisure Suit Larry reboot. At his most recent gig, he drew the Animex Game Festival at Teesside University to
---
Why Ken just keeps being drawn to animation festival
Evening Gazette, 22/02/2013, p.6
"Animex is the only industry convention that I enter," said Ken, who has just moved to London. "I came here at the start of my career and it's really nice, you get to meet everybody and it's a nice gr
---
The face behind the stars
Evening Gazette, 23/02/2013, p.6
Will Becher has starred in some big movies but don't be surprised if you don't recognise his face. The animator from Bristol has been the man behind both Wallace and Gromit and even had a main part in
---
Our future is digital
The Journal, 22/02/2013, p.19
The importance of digital media is everywhere - from the attention the Durham Lumiere festival draws to Animex, the international festival of animation and computer games, staged at Teesside Universit
---
How I rebooted Lara Croft
Evening Gazette, 20/02/2013, p.8; Gazette Live (Web), 20/02/2013
Fresh from breathing new life into Tomb Raider's Lara Croft, games writer Rhianna Pratchett has brought her expertise to Teesside. She was a guest of animation and games festival Animex - which is run
---
How to get a job in the games industry: Crush your enemies
Edge Magazine (Web), 19/02/2013
Speaking at Teesside University's Animex animation festival, Gears Of War 3's lead artist explained his list of dos and donts. "We are lucky if we can find one good person a month," began Johnson. "We
---
Animex Games and Animation Festival
Gamasutra (Web), 15/02/2013
Ken Wong is a well known digital artist and illustrator from Adelaide, Australia. He spent many years working with American McGee as Art Director at Spicy Horse Games, leading the art team on games in
---
Hans has earned Hollywood stripes
Metro North East, 14/02/2013, p.45
The 13th Animex festival runs at Teesside University from Monday until next Friday, with a programme of talks, screenings, masterclasses and workshops. Other Animex speakers include Wyeth Johnson, art
---
Animex Festival
Northern Echo , 14/02/2013, p.37
Pick of the week Animex Festival Teesside University, from Monday (until Feb 22).
---
Meet the man behind the magic of Richard Parker
Gazette Live (Web), 12/02/2013; The Journal, 12/02/2013, p.34,
Film fans can expect to hear a few more inside stories when Hans Rijpkema flies over to the region next week to give a talk at Animex, the international festival of animation and computer games, in Mi
---
Teesside University coverage
BBC Radio Tees, Ken Snowdon, 03/02/2013, 12:36:04
There is a discussion about the computer game industry. Teesside University's Gabriel Kent is interviewed.
---
Teesside University featured
BBC Radio Tees, Mike Parr, 31/01/2013, 11:49:56; BBC Radio Tees, John Foster,
The presenter comments on the focus that Teesside University puts on the gaming industry. Gabrielle Kent from Teesside University is to be interviewed on the topic.
---
Animation festival 'will be biggest yet'
Darlington & Stockton Times (Cleveland), 25/01/2013, p.6
The largest animation festival in the UK will return to the region in February. Animex, the five-day-long international festival of animation and computer games will take place in Middlesbrough from M
---
Animex Festival 2013
Develop (Web), 30/01/2013
Animex is an inclusive event for students and professionals in the games and animation business.
---
Culture choice
The Journal, 29/01/2013, p.64
Middlesbrough hosts its 13th Animex, an international festival of animation and computer games complete with screenings, master classes and workshops at Teesside University on February 6 - 10.
---
Animation festival 'will be biggest yet'
Darlington & Stockton Times (County Durham), 25/01/2013, p.6
The largest animation festival in the UK will return to the region in February. Animex, the five-day-long international festival of animation and computer games will take place in Middlesbrough from M
---
Animex
Gazette Live (Web), 25/01/2013
Another new strand to be introduced this year is AnimEXPO, presented by Teesside University?s centre for digital excellence and entrepreneurship, DigitalCity Innovation, which will provide a business
---
Festival returns
Evening Gazette, 25/01/2013, p.2
Another new strand to be introduced this year is AnimEXPO, presented by Teesside University's centre for digital excellence and entrepreneurship, DigitalCity Innovation, which will provide a business
---
Animex
Evening Gazette, 23/01/2013, p.16
Some of the world's finest animators with links to shows and films such as The Simpsons and The Incredibles have visited Teesside to share their skills. Animex, the international festival of animation
---
Teesside Preps for Animex
Animation Magazine (Web), 21/01/2013
Its not too late to book your flight to catch the U.K.s largest animation festival, Animex, as it returns to Teesside this February 18 to 22. In addition to talks, master classes, workshops, screening
---
UK's largest animation festival set to return to the region
Northern Echo, 21/01/2013, p.39; Northern Echo (Web), 20/01/2013; Darlington & Stockton Times (Web), 20/01/2013
The largest animation festival in the UK will return to the region next month. Animex, a five-day international festival of animation and computer games, will take place in Middlesbrough from Monday,
---
Animation stars set for festival
Gazette Live (Web), 19/01/2013; Evening Gazette, 19/01/2013, p.19
Animex, the international festival of animation and computer games, is returning to Teesside for its 14th year with yet another star line-up featuring some of the industry's leading names. Another new