Animex
news
Comic creators added to Animex festival line-up
From Spiderman to Hulk, Superman to Captain America, comic book heroes have kept fans devoted for generations.
More information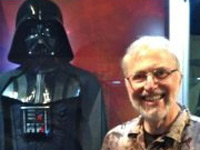 Marv Wolfman will be a guest speaker at Animex Comics.
---
Now, to celebrate its love of comics, Animex, Teesside University's international festival of animation and computer games, is staging Animex Comics.

Taking place during Animex week on Wednesday 20 February, the event will feature a day of talks and signings by writers and artists from the likes of Marvel and Udon Entertainment.

Animex organiser Gabrielle Kent said: 'We are really excited this year to be launching Animex Comics and we have some fantastic speakers confirmed.

'Comic book heroes continue to capture people's imaginations and I believe this event will be an extremely popular addition to the Animex festival.'

One of the speakers at Animex Comics is renowned comic creator Marv Wolfman.

Marv, who is based in California, is the writer-creator of Blade, the Vampire Hunter, Bullseye, the prime villain in the 2003 movie Daredevil and was the writer-creator of the New Teen Titans, which was adapted into a runaway hit show on the Cartoon Network.

He was editor-in-chief at Marvel Comics, senior editor at DC Comics and founding editor of Disney Adventures magazine. Marv also writes computer games and novels and his adaptation of Superman Returns won the industry's Scribe award.

'I started writing because of my love for comics, so it's great fun to see so many of my characters turned into movies, television, toys and animation," said Marv.

'I hope that seeing these characters will inspire new creators. Comic books are still relevant; they just have to change with the times and not be too rooted in the ideas developed when I was a kid.

'It's fantastic that this year Animex is devoting a special event to comics – I can't wait to experience the festival for myself.'

There are only a limited number of tickets available for Animex Comics and people are advised to book quickly to avoid disappointment.
03 January 2013
In the News
Marv Wolfman Interviewed at Animex 2013
Birmingham Mail (Web), 30/04/2013
His work in the horror comics field began when he wa an editor at Warren Magazines and he subsequently became an Editor in Chief at Marvel. Recent years have increasingly found him involved in the wor
---
Animex Festival to Feature Marv Wolfman
Birmingham Mail (Web), 01/02/2013
Animex, the international festival of animation and computer games is celebrating its tenth anniversary over the period of 18-22nd February by expanding to include Animex Comics. Organised by Teeside
---
Comic book kings power in for fans
Sunday Sun (Newcastle), 20/01/2013, p.25; Newcastle Sunday Sun (Web) , 21/01/2013; Newcastle Sunday Sun (Web) , 20/01/2013
Next month, thousands of fans from across the North and beyond are expected to descend on Teesside to celebrate comic capers through the ages. For the first time, Animex, the massively popular interna
---
More than just a game
The Journal, 09/01/2013, p.49
When parents Colin and Margaret Kent brought a budget computer into their County Durham home in 1983, it's unlikely they could have imagined the path it would set their then seven-year-old daughter Ga
---
Animex 2013 festival brings candid industry insight
Edge Magazine (Web), 08/01/2013
Animex: International Festival of Animation and Computer Games , to give it its full title, is now in its 14th year, and will once again host speakers briefed to be frank about the challenges of worki
---
Renowned comic creator Marv Wolfman added to line up of major animation festival
Darlington & Stockton Times (Web), 23/12/2012; Northern Echo (Web), 23/12/2012
The organisers of Animex, Teesside Universitys international festival of animation and computer games, have announced Marv Wolfman as a speaker at Animex Comics, an event set up at the festival for co
---
Celebration of comic heroes
Evening Gazette, 24/12/2012, p.17; Northern Echo, 27/12/2012, p.10
From Spiderman to Hulk, Superman to Captain America, comic book heroes have kept fans devoted for generations. Now to celebrate its love of comics, Animex - Teesside University's international festiva
---
Comic coup for animation event
Darlington & Stockton Times, 28/12/2012, p.1; Northern Echo, 02/01/2013, p.10
The organisers of Animex, Teesside University's international festival of animation and computer games, have announced Marv Wolfman as a speaker at Animex Comics, an event set up at the festival for c