Animex
news
Degree at Teesside opens up a whole new world for Dan
Teesside University graduate Dan Zelcs has worked on some of film's biggest franchises including Harry Potter and The Chronicles of Narnia.
More information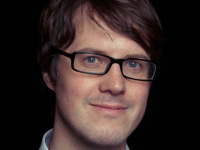 Teesside University graduate Dan Zelcs.
---
As a Lead Rigger with the Moving Picture Company (MPC) his role is to help bring an array of weird and wonderful characters to life.

Being on set for these big budget blockbusters is a dream come true for Dan and he says he still has to pinch himself from time to time at the thought of being involved.

Now Dan, 35, who graduated with a first class BSc (Hons) Visualisation in 1999, is returning to Teesside to speak at the 13th annual international Animex festival of animation and computer games, which takes place from Monday 6 February to Friday 10 February.

He said: 'I am delighted to see how large Animex has become. It is going to be fantastic to come back to Teesside University as it was my degree which really kick-started my career.

'My advice would always be that it is a competitive industry, but if you are passionate about animation and computer games, then just go for it.'

After completing his degree at Teesside, Dan, who is originally from the West Midlands, worked at a computer games company before moving to MPC, where he has been a Lead Rigger for the last three years.

His role involves working with the modeling team to model characters. A skeleton is then created which is used as a puppet for the animators to bring to life.

During his time at MPC Dan has worked on the Warner Bros fantasy film 10,000BC and the Chronicles of Narnia: Prince Caspian. He has also been Lead Rigger for the last three Harry Potter films, leading the rigging team through the battles of The Deathly Hallows: Part 2.

During his time working on the Harry Potter films Dan also helped to bring Nagini, the long, green, female snake to life, and was heavily involved in the death of Lord Voldemort.

He said: 'This is my job and like any job it has its ups and downs. What is really satisfying is when you see your name on the end credits. At times it does feel like a regular job but at other times I have to pinch myself that I'm involved.'

Blown away by facilities at Teesside
Dan decided to study BSc (Hons) Visualisation at Teesside University after visiting for an open day.

He added: 'I was shown around and was blown away by the facilities – I knew it was the University for me.

'I really enjoyed my time at Teesside. I made some good friends and the course was fantastic.'

Chris Williams, Director of Animex, said: 'I remember teaching Dan and it's no surprise that he's risen to such a senior position in one of the UK's leading and most respected studios. Dan's achievements show that if you're prepared to work hard and take advantage of the opportunities the animation and visual effects courses here at Teesside provide, you can go on and become a prominent figure in the industry.'

For ticket details or more information about Animex email info@animex.net or call 01642 342653.
06 February 2012