Animex
news
Childhood obsession leads to dream career for Animex's Karen Prell
From working as a puppeteer on Fraggle Rock to animating characters for the award-winning video game Portal 2, Karen Prell has had a long and distinguished career in animation and puppetry.
More information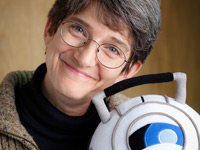 Karen Prell with Wheatley, the exuberantly delusional sphere from the award-winning video game Portal 2.
---
Now she is set to share her experiences at Teesside University as part of the 13th annual international Animex festival of animation and computer games.

Originally from Florida, Karen has been fascinated by animation and puppetry since childhood. She was obsessed by Disney films and dreamed of working in the industry.

It was when the Muppet Show gained prominence she decided to pursue puppetry as a career. After breaking into the industry, Karen performed popular film and television puppet characters for 16 years with The Jim Henson Company, creators of The Muppets, most notably Red Fraggle in Fraggle Rock and the Worm in Labyrinth.

In 1997 Karen learned computer animation at Pixar Studios and worked on the award-winning Pixar films Geri's Game, For the Birds, A Bug's Life and Toy Story 2. She joined Valve in 2007 and has contributed to character animation on a number of video game characters, including the mechanical cast of Portal 2, including Atlas, P-Body, GLaDOS and Wheatley, the exuberantly delusional sphere.

A trio of highlights
'Looking back, I'd say I have three highlights, one for each career,' said Karen.

'My video game highlight was animating on Portal 2. My theatrical animation highlight was animating on Geri's Game at Pixar. And as a Muppeteer, the highlight was working on Fraggle Rock.

'It's definitely been exciting to participate in so many high quality projects and work with so many fun, smart and talented people.'

This will be Karen's first time at the Animex festival and her talk 'the animated adventures of Portal 2' will take place at 4.00pm on both 6 and 7 February at Animex Game.

She will cover the variety of animation used in the development and production of Portal 2 as well as showing some rare and unusual animation tests.

Always respect your audience
Karen said: 'A festival of this kind is important not only for making or reviving connections but for refreshing your outlook. It's helpful to hear peer feedback about your company's creations and it's inspiring to see other creations and developments that people are excited about.

'For people looking to get into the industry my advice would be don't be afraid to make mistakes as long as you can learn from them. Try to step back from subjective creative passion in order to analyse your contribution in the context of the entire product. Most importantly, respect and appreciate your audience.'

Animex originally began as a two day conference and now spans five days of award ceremonies, film screenings, master classes, workshops and inspirational talks. It takes place from Monday 6 February to Friday 10 February.

Chris Williams, Director of Animex, said: 'Karen's extensive experience as a puppeteer and animator makes her a perfect fit for Animex. Her talk will provide our audience with a fascinating insight into the animation created for Valve's Portal 2 and will be one of the many highlights at this year's festival, which really does have something for everyone.'

For ticket details or more information about Animex email info@animex.net, call 01642 342653, or visit the Animex website.
23 January 2012
In the News
Animators celebrate quality of inspiration
NEBusiness.co.uk (Web), 16/02/2012
Animex 2012 festival at Teesside University featured speakers such as author and illustrator Curtis Jobling, Hans Rijpkema of Rhythm and Hues Studios, and Valve animator Karen Prell.
---
Fraggle Rock puppeteer is guest at Animex
Evening Gazette, 10/02/2012, p.19; Gazette Live (Web), 10/02/2012,
Karen Prell was a guest of Animex and told Teesside University students and animation fans about her life's work in the field.
---
A childhood obsession led to dream career for Animex speaker
Love Middlesbrough (Web), 25/01/2012
From working as a puppeteer on Fraggle Rock to animating characters for the award-winning video game Portal 2, Karen Prell has had a long career in animation and puppetry. Now she is set to share her