Animex
news
Stormtroopers to invade Animex 2011
During Animex week, members of the Star Wars Imperial Costuming Group, 99th Garrison, will be surprising audiences and giving fans of the Star Wars movies and games a chance to have their picture taken with their favourite heroes and villains.
More information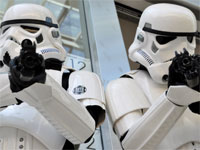 Star Wars Imperial Costuming Group
---
Nigel Jukes, Executive Officer of the group, said: 'After our successful involvement at the last festival we wanted to be more involved. We had a fantastic time at the free family screenings that opened Animex and hope our presence in 2011 will persuade even more people to come along.'

Animex is teaming up with 99th Garrison to raise money for the Tigger Group, a local branch of the Dreamflight charity which sends terminally ill and disabled children on the holiday of a lifetime to Florida (for more details visit www.dreamflight.org).

99th Garrison is a voluntary non-profit organisation set up by Star Wars fans to help out special causes and charities – if you would like them to be part of your event visit www.99thgarrison.co.uk.

Follow us on Twitter @AnimexFestival or Facebook to find out when the 99th Garrison will be appearing at Animex 2011.


19 November 2010