Animex
news
An Up-lifting festival at the University
Animator Andrew Schmidt, who worked on the Oscar nominated movie Up will be appearing here this week as part of our Animex Festival.
More information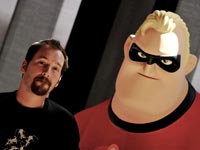 Animator Andrew Schmidt
---
The 2009 animation success Up has just been nominated for the Best Picture Oscar, making it only the second animated movie to ever feature in this category.

Up has also been nominated for four other Oscars (Academy Awards), including Animated Feature Film and was recently awarded the Golden Globe for Best Animated Feature.

Andrew has worked on several of Pixar's hugely popular animation hits in addition to Up, including the Academy Award winning films, Finding Nemo, The Incredibles and Ratatouille. He is currently working on Toy Story 3, due for a summer release.

Andrew will be speaking to an international sell-out audience on Thursday 11 February.

Animex takes place from Monday 8 February to Friday 12 February. The cream of the world's animation, visual effects and computer games artists converge on Middlesbrough to take part in Animex, which is celebrating its second decade.

Major figures from the film and animation industry will be speaking to international audiences on the Thursday and Friday in Animex Talk, which concludes the festival.

James Baxter, Head of Character Animation, DreamWorks.
James is originally from the UK and moved to California 22 years ago to work for Disney on a range of box-office hits, including The Little Mermaid, Beauty and the Beast and The Lion King. He moved to DreamWorks SKG in 1996 and his animation and supervised animation featured in several films, including Prince of Egypt and Shrek 2. From 2005 to 2008 he ran his own studio, James Baxter Animation, whose creative output included the opening to DreamWorks's Kung Fu Panda. During his talk on Friday 12 February James will premiere clips from the forthcoming film, How to train your dragon, which haven't been screened publicly anywhere in the world.

Max Howard, President of Exodus Film Group and a former Senior Vice-President of Disney Feature Animation and President of Warner Bros Feature Animation.
Max is the festival's keynote speaker on Friday afternoon. He is also British and a member of BAFTA and the Academy of Motion Pictures Arts and Sciences, who award the annual Oscars. During his 12 years at Disney he collaborated on many of their animated successes, such as Who Framed Roger Rabbit?, Aladdin and Pocahontas. At Warner Bros he oversaw the hits The Iron Giant and Space Jam.

Mark Osborne, Director of Happy Product Inc.
Mark has worked on two Oscar nominated films, the first being the animated short MORE. On the strength of this, he was selected to develop the blockbuster Kung Fu Panda as co-director, and the film went on to be Oscar nominated for Best Animated Feature.

Matthew Teevan, Head of Production Starz Animation.

With over 20 year's animation experience, Matthew is responsible for the overall planning of Starz Animation features. Since he joined Starz Animation in Toronto in 2006 he has overseen the completion of three feature films, including Tim Burton's 9. He is currently working with Miramax Films and Sir Elton John's Rocket Pictures on Gnomeo & Juliet.

Chris Williams, Animex Director said: 'This is without doubt the strongest line up of speakers we have ever managed to gather for Animex.

'Anybody who has managed to get a ticket for this year's festival is in for an extra special couple of days with so many top end people being here.

'As well as talking to our main audience we're hoping to get these people to speak to local school children and highlight the opportunities that are open to them to work in a fantastic industry. That journey can begin right here on their own doorstep where they can study animation here at the University on one of our internationally regarded courses. I'm certain it's going to be another brilliant week and a fantastic start to the festival's second decade.'

To tie in with the start of Animex, a collection of art-works produced by staff in the University's School of Computing will be shown at the Python Gallery, Middlesbrough. The collection, entitled 'ScMART' is open from Friday February 12 to Friday March 12 and is free to the public. Opening times are Mon to Friday 9.30am - 5.00pm.

A private view will be hosted at the gallery on Friday 19th February from 4.00pm - 7.00pm, where all are welcome to attend.

Staff have produced, for this exhibition, a collection of eclectic work, including photography, drawing, painting, sculpture and animation.


03 February 2010
In the News
All things digital
The Journal (Newcastle Upon Tyne), 04/03/2010, p.28
The Animex Festival at Teesside University has been a great success.
---
Sky's the limit for animation festival
Northern Echo (North Edition), 09/02/2010, p.36
The Animex international festival is taking place at Teesside University. The speakers will include Pixar's Andrew Schmidt, who has worked on hits such as Finding Nemo, The incredibles and Ratatouille
---
On the up!
Evening Gazette (Teesside), 08/02/2010, p.7
The 11th Animex international festival is taking place at Teesside University. Speakers include Pixar's Andrew Schmidt and Max Howard of Warner Bros Feature Animations.
---
Animex festival
BBC Radio Tees, 08/02/2010
Teesside University is hosting the Animex International Festival of Animation and Computer Games, with talks from the director of the film Kung-Fu Panda, animators from Dreamworks and a former preside