Animex news
Up close and personal at Animex
Getting up close and personal with some of the top professionals in the animation and computer gaming world is one of the highlights of Animex.
More information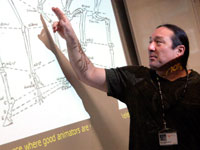 Stuart Sumida, Professor of Biology at California State University
---
The midweek workshops are always a hugely popular element of Animex week with top names such as Curtis Jobling, creator of Bob the Builder and Stuart Sumida, Professor of Biology at California State University who specialises in believable movement of animated characters like those in The Lion King.

It's the place where you can find out what you want to know from the industry professionals such as coming up with ideas and being able to draw them clearly, practical maths and physics for digital artists and what makes a computer game really fun to play.

If you're lucky enough to have bagged a ticket for Animex Talk too, you get to hear from professionals such as Andrew Schmidt from Pixar Animation Studios discussing the making of Disney Pixar's tenth animated feature film Up and Tripp Hudson, senior VFX producer, Framestore, talking about the studio's involvement in James Cameron's Avatar.


11 February 2010
In the News
Phil rewinds to uni days to share tips at festival
Evening Gazette (Teesside), 16/02/2010, p.17
Phil Shoebottom, a Teesside University graduate who now works for Realtime UK, attended the Animex festival as a guest speaker. Other speakers included Max Howard of Exodus Film Group and James Baxter
---
Curtis draws on his experience
Evening Gazette (Teesside), 12/02/2010, p.10
Curtis Jobling, the creator of Bob the Builder, has given a masterclass in animation to primary school pupils as part of Teesside University's Animex festival.
---
It's not all game play ... it's a lot of work
Evening Gazette (Teesside), 10/02/2010, p.14
Mackay McCandish, one of the developers of Call of Duty: Modern warfare, spoke at Teesside University as part of the massive international Animex festival.