Animex news
A second animated decade begins for Animex
Middlesbrough is again set to become an animated town, when we host Animex, the annual international festival of animation and computer games.
More information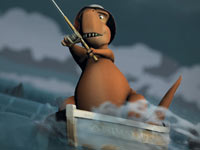 Image taken from Animex 2010 sting, created by The Wishing Well Animation Studio, www.wwell.co.uk
---
Animex, Monday 8 February to Friday 12, is now entering its second decade, bringing artists, designers, directors, producers, professionals together from around the world to share in five-days' worth of events, incorporating a vast range of activities.

These will include:

>Talks from high-profile industry professionals. For the eleventh Animex these include Mark Osborne, Director of the box-office animation hit Kung Fu Panda, James Baxter, a leading animator with the Dreamworks studio, and animation industry consultant Max Howard. Max is President of the Exodus Film Group and a former Senior Vice-President of Disney Feature Animation and President of Warner Bros Feature Animation.

>Free animation screenings at the University and Middlesbrough's Cineworld cinema for all the family.

>An animation exhibition at the University. This year's exhibition features the work of concept artist and Teesside design graduate Dan Walker, whose talent has been viewed in the two Christian Bale Batman films. He also worked on the new series of Doctor Who, the first to star new Time Lord Matt Smith.

>A new business event held in Newcastle for the first time, aimed at new or established animation or games companies.

>Animation workshops for local primary school children, delivered by top industry professionals.

>An international student awards evening.

Chris Williams, Animex Director since the festival's launch in 2000, said: 'Following on from our tenth anniversary in 2009 it's exciting to be organising our eleventh festival as the University of the Year. It is also fitting that this accolade is underpinned at Animex with another amazing line up of speakers that wouldn't be out of place at any festival or conference anywhere in the world.'

The following are sold out: Animex Talk, Animex Game, festival pass, gold pass and Ken Wong's workshop. Tickets are still available for other events, including Animex Business, other workshops, as well as networking events Players' Lounge and Animex Lounge.

For more details:
T: 01642 342653
E: info@animex.net
W: www.animex.net

14 January 2010
In the News
Pixar speaker booked for Animex festival
What's On North East (Web), 05/02/2010
Andrew Schmidt, an animator from Pixar Animation Studios, will be one of the guest speakers at the Animex International Festival, to be held next month at Teesside University. The event offers informa
---
Animex Festival
BBC Radio Tees, 02/02/2010
Teesside University is to host the Animex Festival, attracting speakers worldwide.
---
Dark Knight on the town
Evening Gazette (Teesside), 15/01/2010, p.2
Teesside University is preparing to host the Animex festival celebrating international animation and computer games technology.
---
Middlesbrough gets animated for another year
What's On North East (Web), 15/01/2010
Animex, the international festival of animation and computer games, will be held at Teesside University from February 8 to February 12.