Screen Feature - Window Horses
30 May 2017 - 17:30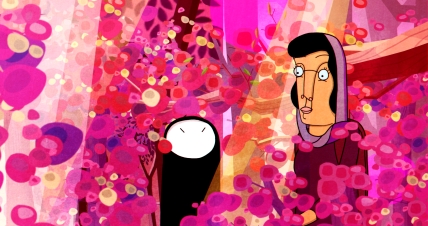 Screen Feature - Window Horses
Screen Feature - Window Horses
Written and directed by award-winning filmmaker Ann Marie Fleming, Window Horses is a feature animation about love—love of family, poetry, history, culture.
Rosie Ming, a young Canadian poet, is invited to perform at a poetry festival in Shiraz, Iran, but she'd rather go to Paris. She lives at home with her over-protective Chinese grandparents and has never been anywhere by herself. Once in Iran, she finds herself in the company of poets and Persians who tell her stories that force her to confront her past: the Iranian father she assumed abandoned her and the nature of poetry itself. The film is about building bridges between cultural and generational divides. It's about being curious. Staying open. And finding your own voice through the magic of poetry.
View the trailer
The film's voice actors include Sandra Oh (Rosie), Ellen Page (Kelly, Rosie's best friend), Don McKellar (a young poet named Dietmar), Shohreh Aghdashloo (Mehrnaz, a professor at the University of Tehran) and Nancy Kwan (Gloria, Rosie's overprotective grandmother). More than a dozen animators, including Kevin Langdale, Janet Perlman, Bahram Javaheri and Jody Kramer, worked on the film with Fleming.
Best International Feature, Julien Dubuque International Film Festival 2017 USA; Human Rights Award - Narrative Feature Competition, RiverRun International Film Festival 2017 USA; ANIMAFICX Award for Best Animated Film, Gijón International Film Festival 2016 Spain; Best Canadian Film, International Film Festival 2016, Canada; Audience Prize Animasyros - International Animation Festival and Forum 2016, Greece.
Ann Marie Fleming | 89 min | Feature animation | 2016 | Canada
Produced and distributed by National Film Board of Canada