Screen Shorts - Random Acts Presents
24 May 2017 - 13:00

Amethyst
Amethyst
An abstract music visual for UK producer, ORCA; a virtual journey through a glitchy universe of chemical colour.
Al Hodgson | 2'49 | animation | 2016 | UK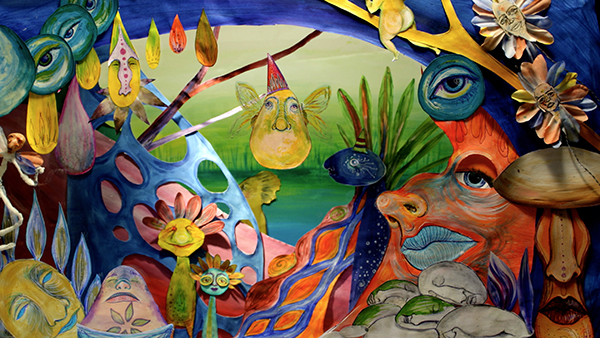 The Durnhams Drizzle
The Durnhams Drizzle
A pessimistic couple have forgotten the beauty of the outside world…
Ella Trudgeon & Lois Bryant | 2'07 | animation | 2016 | UK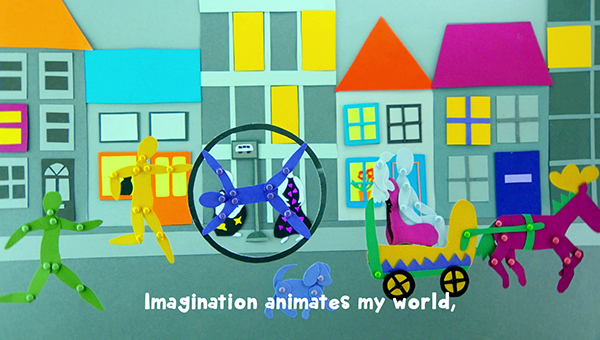 Imagination
Imagination
Imagination is a lively, colourful cut-out animation inspired by Matisse's paper cut-outs. The disabled protagonist escapes from a grey street to an exhibition, where artworks interact with her as her imagination animates them, bringing movement and colour to her world. Lively jazz music reflects her delight, and a poem spoken on her electronic communication aid communicates passion for art and animation and the power of creativity to transform and enrich life.
Jemima Fahy | 3'21 | animation | 2016 | UK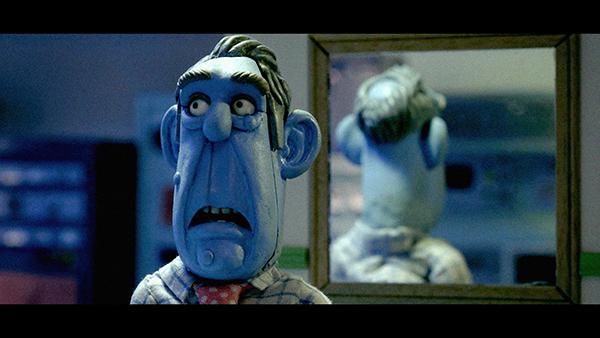 Invasion of the Giant Radioactive Snail from Beyond
Invasion of the Giant Radioactive Snail from Beyond
Dr Frank Buckett invents the Expando-Ray, what could possibly go wrong?
Marnik Loyson | 2'44 | animation | 2016 | UK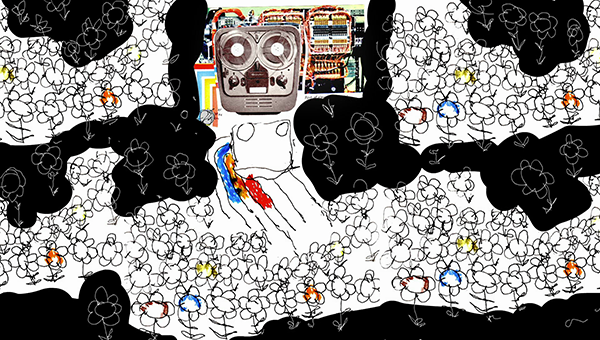 It's All in the Mind
It's All in the Mind
An animated world full of Eden's drawings slowly reveals itself as an arboreal kingdom in which many things lurk. Animals of all persuasion: butterflies, bees, birds, and cows, reindeer, goats, horses and owls accompany her on an imaginary journey into a melancholic world of foreboding and trepidation which is undermined throughout by Eden's dark sense of humour.
Eden Kotting | 3'28 | animation | 2016 | UK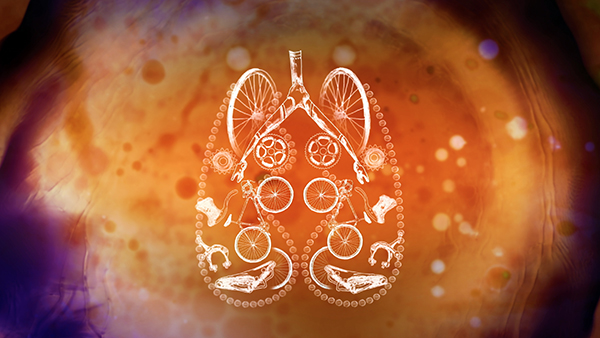 Me and My Lungs
Me and My Lungs
An insight into Chris's life with Cystic Fibrosis, the search for balance and turning challenges into something creative.
Chris Price | 3'10 | animation | 2016 | UK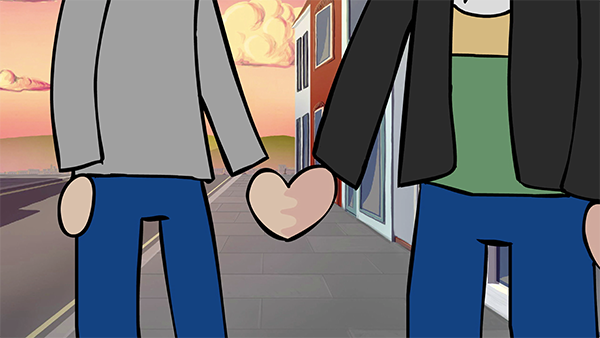 Meet Cute
Meet Cute
After a conspiracy nut shares a 'meet cute' with a nice girl, he discovers he is actually a fictional character in a short film.
Chris Cosentino | 3'24 | live action and animation | 2016 | UK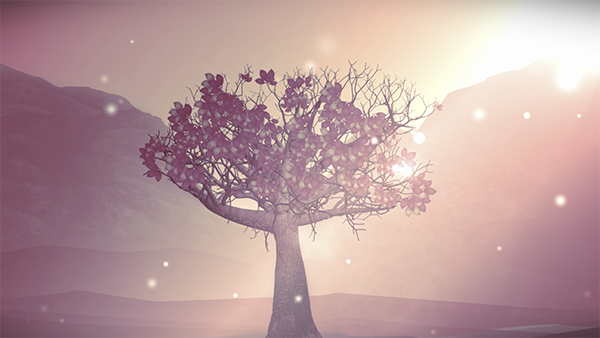 Oblivion
Oblivion
An animation in the first-person that enables the viewer to feel that they are within the trapped world of someone who is suffering with a mental illness.
Sarah Worcester | 3'57 | animation | 2016 | UK
Panoramic
Panoramic
In a tale that highlights our dependency on technology and the anxieties that fuel our thoughts, a young girl wakes to find herself surrounded by floating screens which visualise every outcome of every thought or decision she might make. Will she be able to navigate through the mountain of decisions the screens present or will she become lost in the surreal world of potentially missed opportunities?
James Ivett | 3'57 | animation | 2016 | UK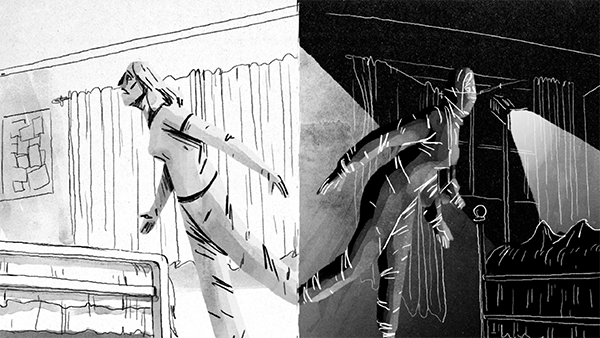 S.O.C.O.
S.O.C.O.
A hand drawn animation in which a Scenes of Crime officer is plagued by memories of her day job. Two environments mesh together in a struggle to separate work and home life.
Marcus Armitage | 2'12 | animation | 2016 | UK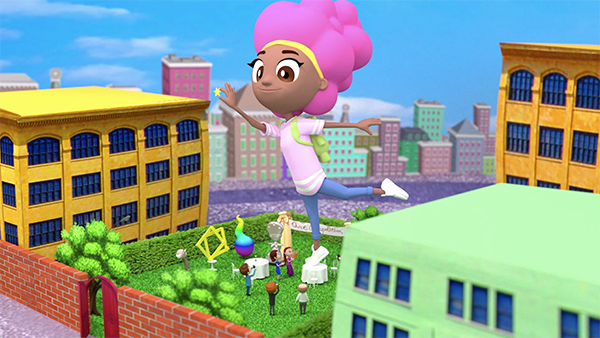 Taking up Space
Taking up Space
This short animation involves a protagonist based loosely on the artist. The message behind the humorous cartoon sequence is the notion that time and space in the art world and academia are not often dedicated regularly to people of colour, most notably women.
Emily Mulenga | 2'00 | animation | 2016 | UK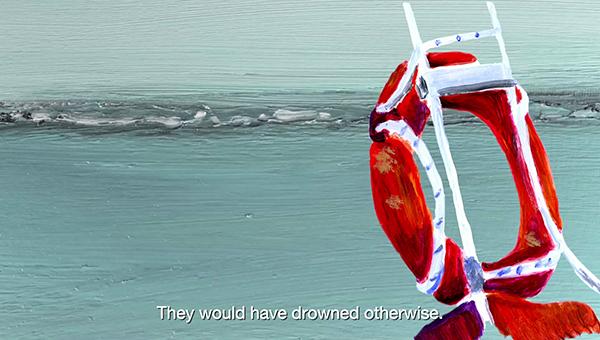 The Law of the Sea
The Law of the Sea
The Law of the Sea tells the story of fishermen from the Greek Island of Lesvos, in their own words, as they work tirelessly to help the arriving torrent of refugees to shore and how this great tragedy of our time has impacted their daily life. This animated short provides a uniquely personal telling of the Syrian Refugee Crisis, far removed from the usual disconnected reporting of the mainstream media.
Elmaz Ekrem & Dominika Ozynska | 3'30 | animation | 2016 | UK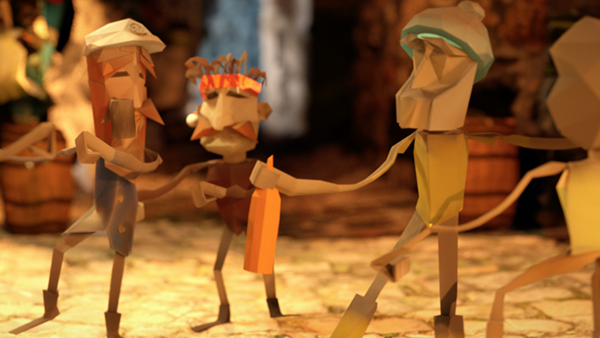 The Ship
The Ship
A cautionary tale of nationalism (and the relative merits of pasties).
Natasha Price | 3'07 | animation | 2016 | UK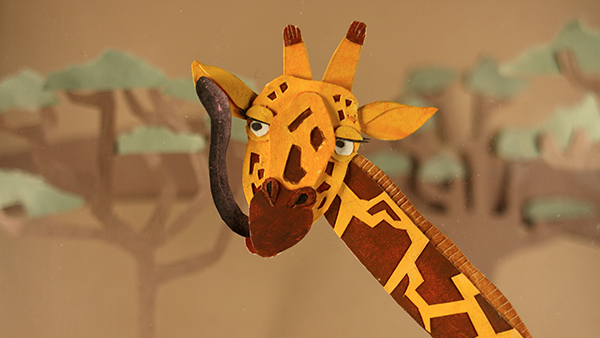 Untamed Truths
Untamed Truths
An ABC of animal factualities…
Sophie Marsh | 2'03 | animation | 2016 | UK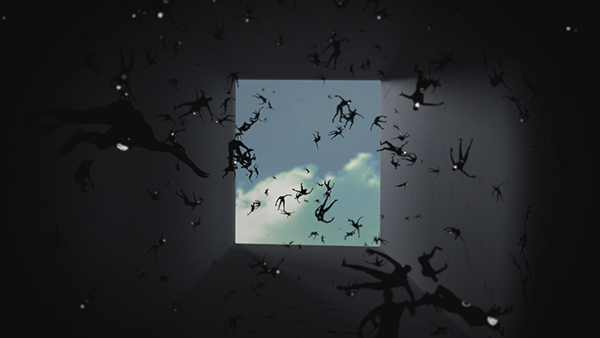 Zero Space
Zero Space
Inspired by the working process of architects in Mayan culture, animator Paul Trickett creates an unnerving film that re-imagines zero space – the transitional place between the interior and exterior – as a house between the conscious and unconscious mind.
Paul Trickett | 2'04 | animation | 2016 | UK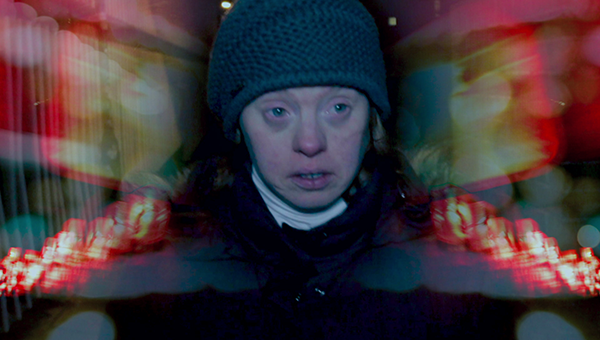 A Glimpse in the Dark
A Glimpse in the Dark
A Glimpse In The Dark is a piece of artist's moving image work, combining live action and animation. It examines themes of identity and inner and outer worlds – what we see when we look at other people in the street and what we feel when they look back at us. The protagonist, played by Sarah Gordy, is seen wandering the streets alone encountering various creatures of the night.
William Hanekom | 2'37 | animation | 2016 | UK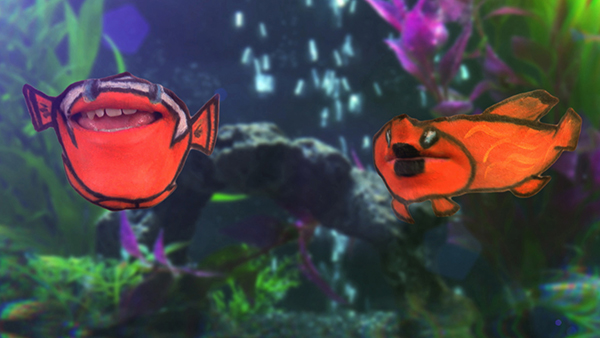 Fish Tank Girls
Fish Tank Girls
An exploration of how young girls fail to learn from the mistakes they make through a conversation between two fish. Quirky and amusing short film created using a combination of face painting and green screen.
Thea Jones | 1'48 | animation | 2016 | UK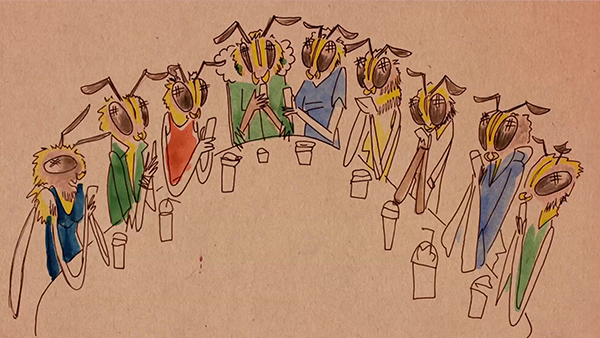 Hiveminds
Hiveminds
Hiveminds explores themes of individuality, conformity and addiction within social media in the 21st Century. It asks the question: Are we in control of the information we access online, or is it in control of us? Located in real time, a teenage girl begins to question the freedom she has online, voicing her frustration with the trivial information pushed to gain her attention, often against her will.
Gabriella Ditton | 3'20 | animation | 2016 | UK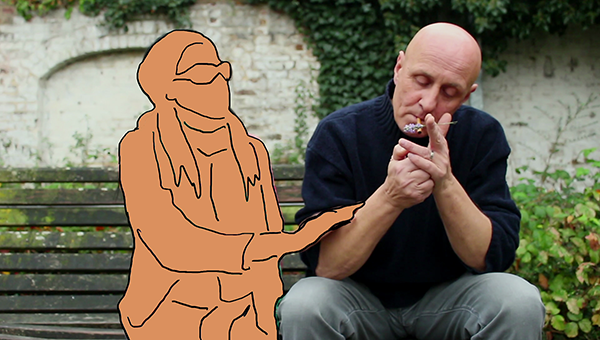 My Familiar
My Familiar
Director Leah Morris uses themes of isolation and loneliness with a combination of live action and animation for her short film. The series of vignettes focuses in on forms of non-verbal communication and the comfort that can be provided by it.
Leah Morris | 3'26 | animation | 2016 | UK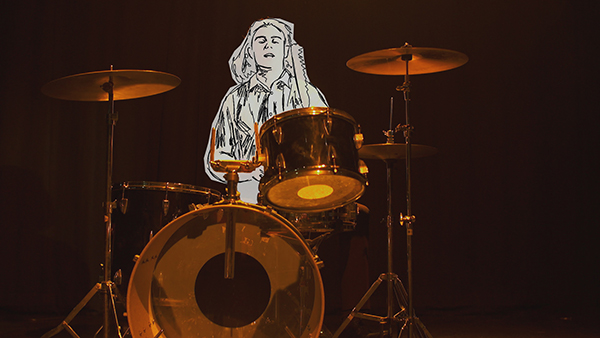 SKIN
SKIN
Performed by the brilliant Kate Collins, Skin tells the story of a drum-obsessed teen called Mark through music, 2D animation and spoken word poetry. Created by 17-year old director-animator duo, Sam Jones and Pip Watkins.
Sam Jones & Pip Watkins | 3'18 | animation | 2016 | UK