News
Animex is for kids, too!
10 February 2010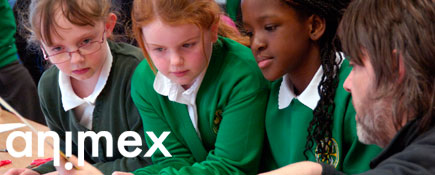 Emily, Megan, Shauna with artist Ben Reche
The future animators of Teesside got some first-hand tips for their potential future careers from organisers of the Animex Festival.
It got our annual international festival of animation and computer games off to a flying start.
Dougy Pincott and fellow artist Ben Reche held the first of three sessions with local junior school children as the festival got underway in our showpiece Athena Building.
Away from the big Hollywood producers who will be speaking about their blockbusters on Thursday and Friday during Animex Talk, the nine and ten year olds from St Alphonsus Junior School, Middlesbrough, made a start on discovering some of the basic skills required to produce animated characters for the big screen.
Among the group were Megan, Shauna and Emily, all aged nine, who were on their first visit to the University and really enjoyed putting together props and plasticine characters for a short animated film about travelling into space. Shauna said: 'Its better than school because you can do art and stuff and the rooms are bigger and more modern.'
Community aspect of Animex Dougy, one of the main organisers of the festival, said: 'The community aspect of Animex has always been important and these sessions show the children the importance of understanding maths to work out how many stop-frame shots are needed to produce 15 seconds of animated film and why knowing about biology and science is vital to help create animated characters.'
Ben, who has had his work exhibited in the United States, said: 'It's fantastic to work with kids of this age group. They are so open to new ideas and let's hope some of them return here to study animation because Teesside University has one of the best courses in the country.'
Called Animexperience, the mini Animex Festival for children includes free family screenings of animated films, where they not only see the latest animated films, but also hear from people who worked on the films.
The junior Animex festival is sponsored by Northern Film + Media and this year there are events for older children, too, with a guest lecture Hans Rijpkema, from Rhythm and Hues studio, which made the Oscar-winning golden Golden Compass animation. Hans also worked on Babe and the Harry Potter films.
On Thursday, Curtis Jobling, designer of the hit children's series Bob the Builder, will be taking the workshop for children and talking about how he got into animated films.
Dougy says: 'The guest speakers love working with the children and always say it is one of the most exciting and intriguing part of the Animex festival.'
---