Animex
news
Looking back on Animex as it celebrates 20th anniversary
From the voice of Bart Simpson to visual effects legend Ray Harryhausen, some of the best known and respected names in animation have visited Teesside University for the Animex festival over the years.
More information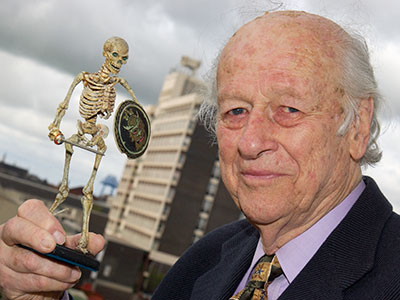 Movie special effects legend Ray Harryhausen, who visited Animex several times.
---
Now about to celebrate its 20th anniversary, the annual Animex Festival brings a global line-up of animation and game industry experts to Teesside University every year.

Movie legend Ray Harryhausen, the Oscar-winning stop-motion pioneer behind film effects seen in Jason & The Argonauts, Clash of the Titans, One Million Years BC and Sinbad & the Eye of the Tiger, visited Animex on several occasions to talk about his work.

Other major names attracted to speak at Animex have included Nancy Cartwright, the voice of one of the world's best known animated characters, Bart Simpson.

Instantly recognisable names such as Walt Disney Animation Studios and Pixar, which are synonymous with box office animated hits such as Finding Nemo, Frozen, Monsters Inc, Pocahontas, Moana and Toy Story, have regularly sent speakers to Animex.

Behind the scenes insight has also been provided over the years from the likes of Jason Schleifer, who worked as lead animator on the The Lord of the Rings trilogy.

Visual effects expert Phil Tippet has talked about working on the original Star Wars trilogy, the Jurassic Park films, the RoboCop films and Twilight triology, while California State University Professor Stuart Sumida, has shared insight into advice provided on the movement of animals for films such as Beauty & the Beast, The Lion King, Stuart Little, Hercules, Mulan, Scooby Doo and Kung Fu Panda.

From the games industry, big names over the years have included Rockstar Games, creators of the massive Grand Theft Auto series, to Blizzard Entertainment who are behind the World of Warcraft games, to Assassin's Creed creators Ubisoft.

Tim Brunton, Animex Project Manager, said: 'We are amazed when we look back at names which Animex has attracted to Teesside over the past twenty years and we continue to be delighted by the calibre of guest speakers who continue to attend.'

This year's Animex festival takes place from 13 to 17 May and boasts another stellar line-up - ranging from Disney animation experts, to the creators of the Marvel Spider-Man game, as well as an expert who helped bring fire breathing dragons to life in Game of Thrones.

02 May 2019
In the News
Looking back on 20 years of Animex
BBC Tees, 2/05/2019
Chris Wyatt is interviewed about Animex's impending 20 year anniversary.